I saw this today and thought y'all might find it pretty
adorable:
Huskies are cute, but Dog will always hold a special place in my heart.
If y'all ever wonder what she looks like, this dog is kind of similar: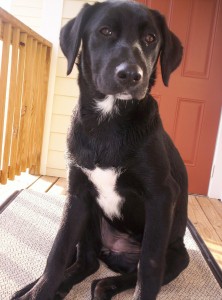 That's not quite her, though.
We got a little snow (with rain) here yesterday, about a few inches, which Dog had mixed reactions to. She didn't like getting cold and wet but she ran around and played in it a little.
Then she came inside and slept on her blanket. Honestly, she sleeps about 18 hours of the day...
Brochacho: like me
Yes. I suppose.
That's my blurb for today! Have a good rest of the week!
Your Royal Paleness