Happy Thanksgiving!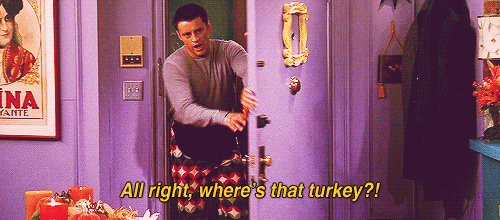 We're going to my
grandma's house today
.
For my international friends, Thanksgiving is a holiday celebrated on the fourth Thursday in November; it is the day we remember the Separatist pilgrims who came from England to America for religious freedom. This particular group of colonists was treated as friends by the Native Americans, so they shared food and farming knowledge. We call the celebration Thanksgiving because the pilgrims were thankful for the Native Americans' help. Today the holiday is celebrated with family members, cooking lots of food, and football on TV (as you can tell this is Brochacho's
kind of holiday
). Click
here
to learn more.
Every year we usually have the same things (I'm not complaining, it's all good); ham, turkey, cranberry sauce (that's not
my favorite
), etc. Some things that
are
my favorites are:
Deviled Eggs
Rolls
Mashed potatoes
Sweet Potato Casserole (with marshmallows)
Rolls
Cheese Curls (I'm sorry, they're too good, and we only get them when we go over there)
Rolls
Rolls
Cheerwine
Rolls
Did I mention rolls?
Even though she isn't from the South she still cooks a mean turkey and buys a mean chocolate pie.
As I said before I am very thankful for my family and how they put up with me all the time. I'm sure that's
pretty hard some days.
What are you guys thankful for?
And yes; I will be having sweet tea with my dinner.
Your Royal Paleness